Drag
and
Drop
Presentation
Builder
Wealth and Wisdom needed a presentation builder to help their users communicate with their clients. The idea was to put in place a gallery for the user to browse thumbnails of the pre-produced slides and demonstrations to be previewed.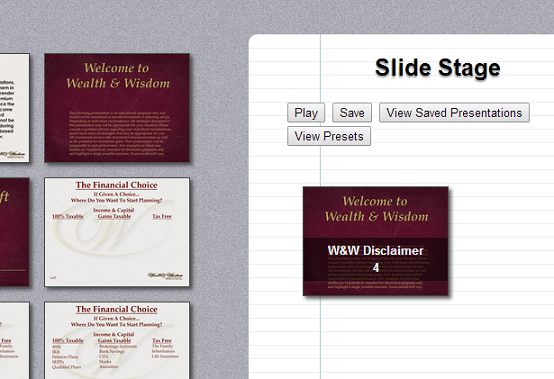 Then, these slides were needed to be gathered together into a location where the user could compile them together into their own custom presentation. From there, once the presentation was to the liking of the user, they could save this presentation and/or play it out into a theater.
So we built The Wealth & Wisdom Institute some custom software to do all of that. It included a lot of really intriguing features, such as Pre-set presentations. Pre-set presentations were compiled by our client to present to clients in a planned manner. We are able to swap-out these presentations anytime that W&W wants to change them.
But wait...there's more!
And, of course the users want to build custom presentations. So we gave them the ability to build their own, and save them.
Hitting Play takes you to the theater where the slides are presented. Since some of the slides are supposed to start a demonstration of financial scenario calculations, we came up with complex mathematical calculators that are loaded into the theater and minimized into modal windows. These are able to be maximized, dock-able, and many have mini-calculators built in.
This system truly is revolutionary and gives The Wealth & Wisdom Institute a competitive advantage. This custom software is innovative and built to be used on iPhones, Droids and tablets. The drag-and-drop can be done with a swipe or a tap!