What is it?
The THiNC.tank is a collaborative entrepreneurial program that combines software development experts, business development gurus, financial mavens, accountants, designers, and attorneys all in one space. Tenants will have their ideas vetted by technology and business experts, and if chosen will be able to produce their innovations in a nurturing and professional environment. THiNC.tank members have created multiple software products and have worked on large scale projects—including successful creation of several tech companies.
If you've won a contest, and wonder what's next...are a researcher who wants to make their ideas a business...or if you have a great idea but don't have the resources, this is the opportunity for you.
---
Where is it located?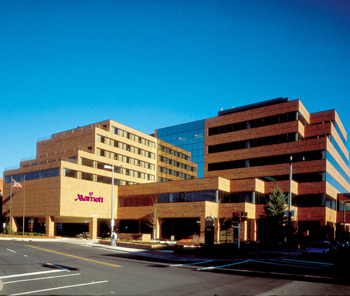 Located in the top floor of the East Lansing Marriott, the THiNC.tank offers Class A office space via CB-Richard Ellis with a receptionist, conference and training rooms, kitchen, and co-working and ideation spaces. We have space for single entrepreneurs or teams.
We have between 12-16 offices available, depending on demand and configuration of teams or individuals.
The THiNC.tank will provide you with:
• Reception services: Answering incoming calls, booking conference rooms, taking guests or clients to your office, arranging food and beverage service, etc.
• Common Areas: Ideation booths, conference rooms, training room, bathroom and kitchen
• Custodial Services: Cleaning of common areas, trash removal
• Internet: Wireless and connected internet available
• Power: Electricity, heat provided
---
Who is involved?

The THiNC.tank has a few permanent residents. To handle software, mobile application, web application, website and technology development, we have the software and technology development firm THiNC.technology. For accounting, we have Plus 5 Accounting Services. For shipping, transportation or logistics we have Future Transportation LLC. And, legal service may be provided by Edward Christensen, PLLC. We have several Venture Capital Funds, and they will be announced here over the next few weeks.
---
Why is it needed?

We believe that great ideas happen everywhere, but sometimes in our market resources are scant or hard to find. All of our members have met entrepreneurs who have brought us amazing ideas about changing technology, changing the social fabric, or changing the world. Often, they lack a cohesive team or coaching and mentorship that can take them to the next level.
*We believe that sometimes incubators often aren't enough, and that the next step of business development still requires teamwork and collaboration.
*We believe that starting up your Tech Company or product shouldn't cost you millions of dollars. With our approach, you can start off in positive territory.
---
How does it work?

We accept applications for the program 3 times a year, in August, December, and May. The application process is straight forward, and doesn't require a fee to apply.
Our Process:
You fill out the forms and return the requested information. It's that simple. Current tenants and new applicants alike are considered. (New applicants, if chosen, may be required to rent space onsite).

Then, your application is vetted amongst the

TH

i

NC

.

tank

members for its feasibility, market fit, and program fit. The application process is rigorous and you can expect to have your technology scrutinized, your business plan challenged, and assumptions questioned. This is a healthy part of the process, and doesn't mean you'll be disqualified. Often it brings the business of the idea into focus, and helps you work towards a more realistic goal.

Once we adjourn, our staff will meet and determine your eligibility. If chosen, you may be offered investment by our VCs and Angel investors so be prepared to present a solid business case for your product. It's always better to be over prepared, than under prepared.

Program participants may lease their space, get discounted rates for any services they may require (including in some cases terms for any equity-for-services deals); a move-in date if a new applicant, and information package. They will get a meeting scheduled with each service provider to review their particular needs as part of this process and may be required to provide further documentation.

Once you start, you can work with the members of the floor to build your product/service and get it ready for market. We'll have regular meetings scheduled with staff to check the progress, and will be there to answer any questions you may have about readying it for market.

Your product, service, or business model will be developed and then prepared for launch. We'll gather resources to put out information for press and social media, and for any PR or Marketing company that you work with. Then, we'll work with you on the next steps of growth.
---
When do applications have to be ready?

We accept applications for the THiNC.tank in May, August, and December. The 1st day of those months is the due date for each session, and they must arrive before 5pm EST on the due date. It may take 2-3 weeks for us to review and vet the applications properly, and this may require you to answer/address, or provide some feedback to us.
---
Who is eligible?

Any US-resident may apply. Special consideration is given to Great Lakes region (Illinois, Indiana, Michigan, Minnesota, Ohio, Pennsylvania and Wisconsin) entrepreneurs and businesses since that's where we came from, where we live...and our mission is to increase our region's ability to innovate and provide economic growth.
We will also hear pitches from Non-US based entrepreneurs and companies that meet one or more of the following criteria**:
• Must be able to travel to the US freely*
• No restrictions on trade with you or your country of origin*
• Investment Immigration (EB5)
*Mandatory, required.
**We will not be offering an H1, Student, or other Visa services.
How do I get involved?
• If you are a student and want to make your idea real, then fill out the application form or email
• If you are an entrepreneur, and want to develop a product or service for business, then fill out the application form or email
• If you are a business, and want the THiNC.tank's expertise to develop your next product or service, then fill out the application form or email
• If you are a business, and want to leverage the THiNC.tank's knowledge for consultation, then fill out the application form or email
• If you are an investor, whether an Angel or an Accredited Investor you can contact THiNC.tank directly at (855)932-9499 x 800 or email